These super simple ideas (many of them FREE) will come in handy when cabin fever strikes and make it easy to avoid the indoor entertainment pitfalls of more screen time and complaints about boredom of which we're all so familiar. Get ready to turn the long, dark days of winter into a season the whole family can enjoy.
1. Host a Teddy Bear Tea Party
Pull out the fancy tablecloth, grab your kids' tea set, and invite the whole stuffed menagerie down for a cup of afternoon tea (and cookies).
2. Book-and-a-Movie-Marathon
So many excellent children's' books have been adapted for the big (or little) screen, from A Series of Unfortunate Events to Zathura, and everything in between. Spend a day reading the book and then watching the movie.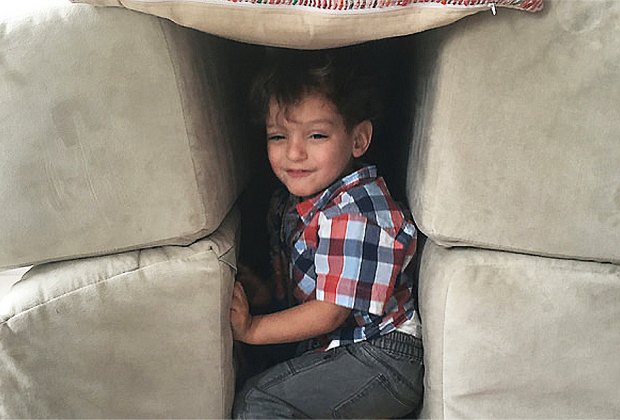 Pillows and cushions were made for building forts on cold winter days. Photo by Sara Marentette
3. Construct a Fort

An oldie, but a goodie! You don't need a fancy fort building kit: just sit back and watch your kids transform your sofa cushions into a magical kingdom. You can also try draping a large sheet over a dining table and watch them hide beneath it and probably move in friends and furniture! Kids love their own private space.
4. Box Arcade 

Turn that growing collection of Amazon boxes into an Arcade. DIY.org has a ton of tutorials on how to build carnival style games using cardboard.
5. Paper Snowflakes 

Turn a flurry of paper clippings into beautiful, non-wet snowflakes. Create your own patterns, or use these templates to make some awesome Star Wars snowflakes.
6. Make a Time Capsule 
Find an old shoebox or another small container to use as your capsule. Each kid should get their own, or create a family one together. Start collecting items to add to it. Let kids be creative, but some suggestions on what to include are a current newspaper or magazine, tickets or other vacation mementos, awards, and family photos. Try adding in tracings of kids' feet and hands, and a list of their stats (height, favorite things), and finish with a letter to your future selves.
RELATED: 50 Easy Science Experiments to Do with Kids Using Household Items

Create a whole snow family of pancakes and enjoy a deliciously fun breakfast. 
7. Snowman Pancakes
You don't have to be a professional food artist to create a pretty amazing snowman pancake. Simply pour pancake batter into two or three snowman shaped circles. Give the kids all the fixings to decorate the pancakes, such as chocolate chips for eyes, bacon for a scarf, and shaved coconut for snow.
8. Tape Games
A roll of painter's tape and a little imagination can go a LONG way on a snowy day. Create an indoor hopscotch or a race car track. You can even create an indoor obstacle course and see who can get through it the fastest!
9. Shovel a Neighbor's Sidewalk
In big snowstorms, the weather announcer always reminds everyone to "check on your elderly neighbors and see if they need any help," and it's great advice. So, make this your act of kindness for the day, and head over with the big kids to shovel a neighbor's sidewalk and maybe even bring over one of your baked treats.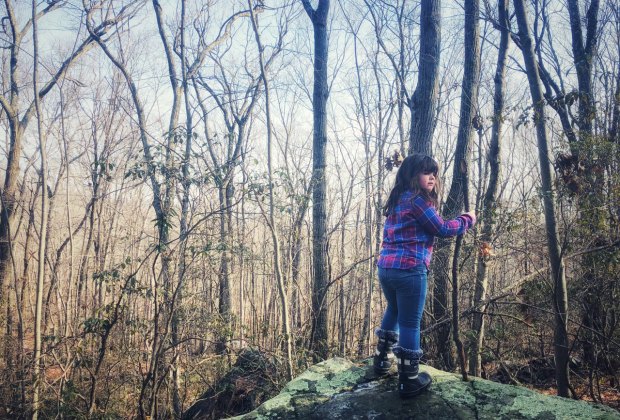 Grab your snow boots and hit the trails for a winter hike. The fresh air always feels good!
10. Winter Hikes 
Don't let the snow keep you restricted to the indoors. When the seemingly endless cold and gray of winter is giving the whole family a case of cabin fever, it's time to bundle everyone up and head to the nearest park, trail, boardwalk, or beach to enjoy the crisp cold air and the crunch of snow beneath your feet.

11. Edible Wreaths
Create a beautiful and edible wreath for the birds! A bundt pan, gelatin, birdseed, and a few other ingredients will make your feathered friends happy for the winter.
12. Neighborhood Board Game Party
Get out all the games. Yes, all of them! Chess, checkers, Trouble, Connect 4, Cooties, Battleship, and whatever else you have tucked away. Set all the games out on a table, invite the neighbors over, and start playing.

What kid can resist a cookie decorating extravaganza?  Photo via Bigstock
13. Decorate Cookies
Buy slice-and-bake sugar cookies and then supply the kids with myriad toppings, such as sprinkles, colored icing, or even small candies, and watch their creativity shine.
14. Blizzard in a Jar 

You may be a little sick of the real snow, but we can never get enough of snow globes. For those times when the wind is blowing a little too much outside, shake up a little winter magic of your own indoors by creating an entire winter wonderland in a mason jar.
15. Make Snow Ice Cream 
Turn all that freshly fallen snow into an edible treat with this snow ice cream recipe. Add the ingredients to your "snowstorm shopping list!"

Cardboard tubes and a balloon are all you need for some active indoor fun! 
16. Inside Balloon Hockey 
Get out some energy with a round of balloon hockey. It's easy to play and surprisingly engaging for kids of all ages. We transformed some long cardboard tubes (from wrapping paper) and cardboard squares into "hockey sticks" 
and then threw in a small balloon.
17. Build the Tallest Tower 

Every kid loves a big tower. Host a build-a-thon using something new. Let them stack anything that isn't breakable: plastic plates, Legos, shoeboxes, cardboard boxes, wooden blocks. Get a little competitive and see who can build the tallest tower.
18. Paint in the Snow 

Freshly fallen snow is a perfect blank canvas. Fill spray bottles with diluted watercolors or food coloring and spray away to create a masterpiece.
19. Hot Cocoa Taste-a-Thon 

After playing outside in the snow, my mom always made us a cup of classic cocoa with marshmallows. But, there are so many other variations on hot chocolate: salted caramel cocoa, Nutella hot chocolate, fluffy hot chocolate, and so many more to try.